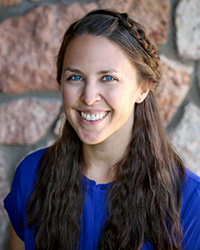 (Assistant Director), Assistant Professor, UCCS Health Sciences
About
Jessica Kirby (Assistant Director), Assistant Professor, UCCS Health Sciences, research focuses on exploring the sport and physical activity experiences of individuals across the lifespan, as well as the impact of social connection and peer relationships on psychological well-being in sport and physical activity settings. She specializes in qualitative and arts-based research methods including narrative, ethnography, portraiture, and research poetry. Dr. Kirby is a member of the Association for Applied Sport Psychology and serves as the Health Promotion graduate program coordinator at UCCS.
Recent Publications
Kirby, J.B. (2021). Fastest on the playground: Four generations of female sport experience. The Qualitative Report, 26(8), 2558-2576. https://doi.org/10.46743/2160-3715/2021.4822
Kirby, J.B., & Kluge, M.A. (2021). For the love of the game: An exploration of the Experiences and Psychosocial Development of Women Over 70 Years Old Who Play Volleyball. Journal of Aging and Physical Activity, (in press). https://doi.org/10.1123/japa.2021-0100
Kirby, J.B., Roberts, S., Coakley, J., Stanec, A. & Gormley, G. (2019). Why Women's Wrestling, Why Now: White paper on the current state of wrestling and the benefits of developing women's wrestling programs. UCCS Center for Critical Sport Studies & Wrestle Like a Girl.